Achieve a Confidence-Boosting Smile With Dental Implants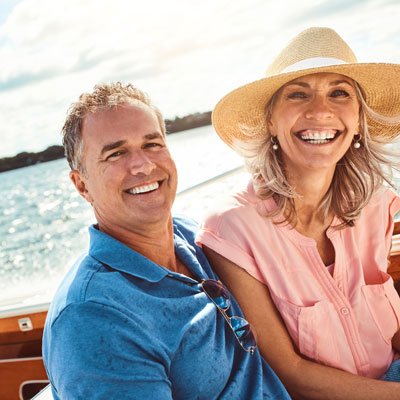 While a new article of clothing or stylish haircut can give your confidence a lift, there's nothing like a beautiful smile to boost your self-esteem. If you have one or more missing teeth, however, you may not feel like smiling. Fortunately, an excellent solution exists that is lifelike-dental implants. An implant is a screw that is covered by a bridge, crown or denture.
Some Key Benefits of Implants
Though various types of tooth replacement options are available today, dental implants have numerous advantages over these:
Have a natural-looking appearance
Are made of titanium, a durable, biocompatible metal
Inhibit bone loss, preventing facial shape changes
Are long-lasting, if cared for properly
Can be maintained easily
Dental Implants FAQ
Why consider dental implants?
If you have missing teeth, you may lack critical self-esteem. In addition, your oral health may suffer. That's because your existing teeth can shift when a gap is present. Tooth loss and bone loss also can occur, due to the degeneration of gum tissue over a period. When this wear and tear takes place, it can alter your facial profile and make you look older than you are. Eating also can become difficult. With dental implants, however, you have the ability to enjoy all of your favourite foods. You also can speak effortlessly and comfortably.
Can anyone get dental implants?
Most adults who are healthy can get dental implants. Some health conditions may decrease the effectiveness of implants. During your initial appointment with us, we will ask you about your health history. We want to make sure that dental implants are appropriate for your needs.
What does the process of getting an implant involve?
After an exam has been performed and we determine that dental implants are the preferred way to achieve your smile goals, we'll take X-rays and gather all the required information. If we conclude that you need bone grafts or extractions, we'll take care of those procedures first and allow you to heal before proceeding. The process involves a titanium post being inserted into the jaw. Then, we can fit you with a temporary crown while waiting for the implant to integrate. Next, we can place your permanent crown, bridge or denture on the implant. Finally, the appearance and fit will be examined. If you have any questions, we'll be more than happy to answer them.
Can my dentures be supported with implants?
Yes; an implant-supported denture is a kind of overdenture that is supported by and attached to implants. A traditional denture rests on the gums and is not supported by implants.
How do I care for my dental implants?
Easily! One of the best benefits of implants is they are easy to take care of. Just brush and floss as you would with your real teeth. Though implants won't get cavities or require a root canal, you still must brush and floss daily. Doing so ensures that the gum surrounding the implant and your natural teeth stay healthy.
Book an Assessment Today!
If you're ready to smile with greater confidence, we invite you to schedule an assessment today for just $60. We'll let you know if you're a suitable candidate for dental implants.
* Any surgical or invasive procedure carries risks. Before proceeding, you should seek a second opinion from an appropriately qualified health practitioner.