Children's Dentistry at Dandenong Dental Care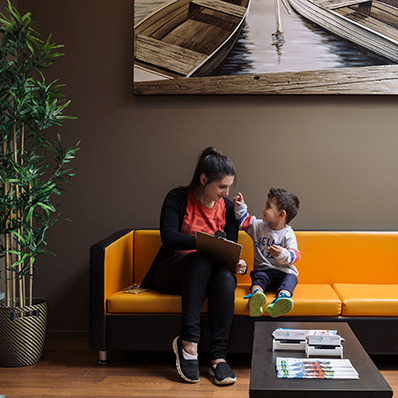 The team at Dandenong Dental Care provides compassionate, gentle dental care to people of all ages. We love seeing children who are beginning to learn about addressing their oral health. Your children will respond well to our friendly staff and learn to enjoy their dental checkups, ensuring that they can have a happy and healthy smile for their lifetime.
Gentle Care for Kids
We invite you to bring your child in with you to your appointments so that they can become familiar with our environment. At their checkups, we'll offer them "rides" in the dental chair, give them lessons about brushing and hand out goodie bags with gifts that will help them improve their oral health care.
The many solutions we provide for children include:
Bite assessments
Custom-created mouth guards
Fluoride treatments
Teeth development assessment
Teeth grinding assessments
Thumb sucking/tongue thrusting or mouth breathing assessment
When to Begin Dental Checkups
By having your child's teeth checked and teaching them the proper oral hygiene habits, you're ensuring their future health. We recommend that your child come in for a checkup when their first teeth erupt, which usually happens between 6 months and 1.5 years of age.
We'll check their teeth, gums and bite. If they're older, we can talk to them about brushing, flossing and which foods are the best for healthy teeth, making it fun for them.
Find Out If Your Child Is Eligible for the CDBS
The Child Dental Benefits Schedule, or CDBS, covers up to $1000 every two years for eligible children who are between the ages of 2 and 17. If you're unsure if your child is covered, get in touch with our team and we can look it up for you. Contact us today to schedule a time for children's dentistry Dandenong! Health funds are accepted and can often be bulk-billed.
CONTACT US
Any surgical or invasive procedure carries risks. Before proceeding, you should seek a second opinion from an appropriately qualified health practitioner.
---
Children's Dentist Dandenong, Keysborough, Noble Park, VIC | (03) 8578 6000