Update 28 July 2021
We are open!
We are pleased to report that Dandenong Dental Care is open for all dental care.
To ensure the well-being of our patients and our team we are following all recommended health and safety measures. This includes:
All patients will be screened for symptoms prior to the appointment. Treatment will be deferred for any patients who report any symptoms or who have been to any of the potential exposure sites.
Our team will wear face masks at all times while indoors.
All patients over 12 years old must wear a face mask in the reception area.
All people who enter the practice must use a QR code check-in with limited exceptions.
It is important that we all do our part to ensure the health and safety of our community. If you have any questions or you would like to book an appointment please contact us and our friendly team will be glad to assist you.
We look forward to seeing you back at Dandenong Dental Care.
---
Update 3 June 2021
Due to the extended lockdown for Greater Melbourne we are limited to appointments for urgent procedures and surgical treatment for patients with:
Facial swelling
Intra-oral swelling
Facial trauma
Dental trauma
Significant/constant/uncontrollable pain.
Please contact us by phone (03) 8578 6000 or email admin@dandenongdentalcare.com.au to request an emergency appointment. If you have any questions please contact us and our friendly team will get back to you as soon as possible.
---
Update 28 May 2021
We are closed due to the Victoria-wide lockdown and will reopen 4 June. Appointments for 4 June onward can be made using our online booking system here. If you have any questions please send an email or leave a voicemail for us and our friendly team will get back to you as soon as possible.
---
Update 28th September
We are now under Level 1 restrictions!!!
This means we can carry out all necessary dental treatment under precautions.
We take strict measurements to ensure safety of our patients and staff. we carry out screening questionnaires, temperature checks and strict infection control protocols.
We are open again normal working hours , Monday to Saturday.
---
Update 7th August
We are open under level 3 restrictions
We are here to serve you weekdays 8.30am to 4.00pm and Saturdays 8.30 am to 1.30pm. The types of appointments we can see are emergencies under level 3 restrictions. This includes emergency fillings and extractions for new and old patients.
We are actively following all covid safe procedures including taking your temperature. We welcome you to book an appointment with us online or over the phone. Call our friendly team with any questions or concerns.
---
Update 23rd July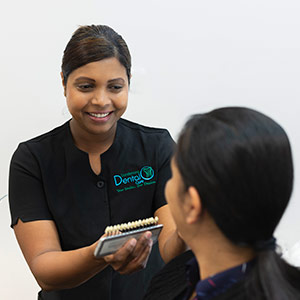 As dentistry is an essential service, Dandenong Dental Care remains open.
Please note, however, that since there has been a spike in Covid-19 cases in VIC, we have returned to Level 2 restrictions.
Dental Health Services Victoria has made the decision to move to Level 2 dental restrictions beginning Monday 13 July 2020.
ADA Level 2 Restrictions
Working under ADA Level 2 restrictions means we can provide some services. These include cleans (with hand instruments only), exams and consults, dentures, teeth whitening and others.
Rest assured that we remain steadfastly committed to keeping our staff and our patients safe and healthy. We will continue to monitor all patients and ensure that we maintain all social distancing and hygiene requirements as we have been doing.
How You Can Assist Us
• Have just one parent/guardian attend per child. Please leave at home any patients who do not have appointments.
• Stay home if you don't feel well or have travelled within the last 2 weeks.
• Remain home if you have come into contact with someone who has a suspected or confirmed case of Covid-19.
Thanks for Your Support
Your support during this challenging time is greatly appreciated. If there is anything we can do to provide support to you, just let us know. We endeavour to keep looking after you and your family for as long as possible.
If there are any new developments regarding our practice, we will keep you updated via telephone, email and social media. Please stay safe and stay well!
---
Update 9th May
We Are Open!
At Dandenong Dental Care, our top priority is the health and well-being of our patients, families, staff and community. In this unprecedented time, we are deeply committed to keeping everyone safe.
The government has now eased dental service restrictions to 'Level 1?. This means we will now be able to treat our patients again and perform dental checkups and cleans, as well as all our other services.
For any enquiries, please contact our friendly team.
To keep you safe, we will be also asking all patients if they have:
returned from overseas or interstate travel in the past 14 days
felt unwell, including but not limited to symptoms of COVID-19 such as fever, cough, sore throat or shortness of breath
had any contact with a confirmed or suspected case of COVID-19 in the past 14 days
If you answer YES to any of these questions, we cannot provide routine dental care and will reschedule the dental appointment for 14 days after their return from overseas, interstate or contact with a COVID-19 case, or when their symptoms have resolved and they are no longer considered a risk.
We wish all of you continued health and strength. Physical distancing, social connection! Wash hands! We can beat this together!
---
An announcement regarding COVID-19
About the ONLY thing on people's minds right now is the Coronavirus. So let's talk about it. The purpose of this notice is to keep you informed about the proactive approaches we're taking with regards to the COVID-19 situation.
The Australian Dental Association has announced Level 2 restrictions for dentists. At this time we can only treat most of your dental needs except a limited number of procedures. We will talk to patients on the phone and determine if it is safe and appropriate to come into the practice for treatment. This is an important update that will protect our patients safety and the safety of our staff.
We take your health and welfare seriously. And while we've always been committed to sanitation and infection control, rest assured we're taking special precautions these days.
Hand sanitizer is provided for use in our reception area and throughout our practice.
All surfaces, equipment and adjusting tables are regularly sanitized with disinfectant.
Team members will continue proper hand hygiene in accordance with federal guidelines and adhere to proper cough etiquette.
We will complete a written/verbal screening process for all new and returning patients to keep clinic secure for everyone.
Please ring us to cancel your appointment if you have flu like symptoms such as fever, runny nose, cough, shortness of breath, sore throat.
We would look forward to welcoming you back once your symptoms resolve. Most of us have never experienced anything like this in our lifetime. It's an evolving situation and we'll keep you informed if anything should change. But for now, it's full speed ahead, helping our patients one mouth at a time.