Dental Implants at Dandenong Dental Care
At Dandenong Dental Care, you can benefit from our full range of solutions to suit your every dental need. Our team has years of experience with performing dental implant surgery. Dentist Dr Dumi has completed numerous cases for patients who wanted to replace their teeth with implants and is passionate about assisting people in showing off healthy, beautiful smiles.
How Dental Implants Restore Your Smile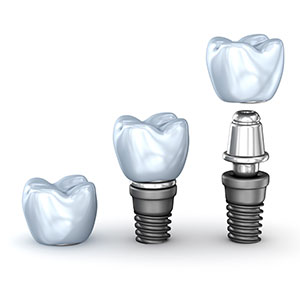 A dental implant is a titanium root that is placed into your jawbone. As the site heals, the implant is accepted into the jawbone, staying in place just like the root of a natural tooth. The implant can then have a crown, bridge or denture affixed to it, depending on your particular situation and what is most appropriate.
If you're missing teeth, you've probably felt as if your self-esteem has taken a hit. You may have given up your favourite foods. Over time, the teeth around the gap start to shift, affecting your smile and changing your facial profile. Our team is passionate about helping people improve the appearance and function of their mouth.
A Lifelong Answer
A dental implant looks and acts just as a natural tooth. They're not just durable-they can last for your entire lifetime if properly cared for. With regular brushing, flossing and dental checkups, you won't ever have to worry about replacing your dental implant Dandenong.
What to Expect
If you think you may be interested in dental implants, the first step is to have a consultation at our practice. Our dentist will evaluate your oral health and determine if the procedure is appropriate for you, discussing each step so that there are no surprises.
The procedure takes place over two stages. During the first, your implant is placed into your jawbone with our pain-free surgical technique. In the second phase, after a healing period has passed, you'll have the crown, bridge or denture placed on your implant. Your restoration will be perfectly matched to the rest of your teeth for a seamless look.
Nobel All-On-4 Dental Implants
Nobel Biocare is an established, leading brand that you can count on.
Nobel dental implants have been used for nearly two decades and in hundreds of thousands of patients. Nobel has a wealth of patient data that demonstrates it's possible to achieve long-term success rates on a broad scale. Newer or lesser-known implant designs can still be predictable and used safely but don't come with the same years' of research behind them.
The Nobel dental implant system is used by dental implant specialists all around the world, including here at Dandenong Dental Care. The standardised design allows for peace of mind for many patients because you can find dental providers all around the world who can work with you to maintain your implants and you can feel confident knowing you have access to the Nobel support system, compatible equipment, and network of experts on hand to repair your dental implant should an issue arise.
Dental implants are an investment to help you achieve a strong, attractive smile that will last. You want to feel confident that you are investing in something worthwhile and with Nobel dental implants you can be certain that you're investing in one of the best dental implant systems possible. Nobel's implant systems are found in over 80 countries, with production sites in Sweden, Japan and the United States.
Want to Learn More?
Would you like to improve your smile? Contact our team today to arrange your appointment with us! Health funds are accepted and payment plans are available through zipMoney.
Any surgical or invasive procedure carries risks. Before proceeding, you should seek a second opinion from an appropriately qualified health practitioner.
---
Dental Implants Dandenong, Keysborough, Noble Park, VIC | (03) 8578 6000