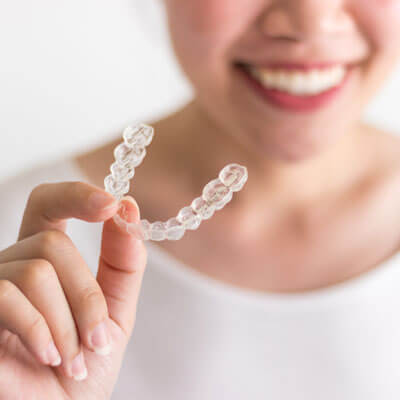 Although there are many dental practices in Dandenong that offer Invisalign treatment, not all providers are the same. Dandenong Dental Care stands apart as an Invisalign Platinum Provider. This distinction means that our dentists have an in-depth understanding of the Invisalign process and have received extensive training for patients' benefit. Our dentists have helped more than 300 patients achieve the straight and beautiful smiles they've always wanted.
Why Choose Invisalign Treatment?
Invisalign treatment is a globally recognised, contemporary approach to straightening teeth. A series of custom-made clear aligners are used to address each patient's unique smile needs. The smooth and comfortable aligners are practically invisible, giving patients an excellent and inconspicuous alternative to traditional metal braces. And with Invisalign treatment, you can get fantastic results in as little as six months!
Offering Care You Can Trust
Possessing many hours of real-world experience, our dentists can help patients correct a wide array of orthodontic problems. These include misaligned teeth, crooked and crowded teeth, overbite, open bite, crossbite and underbite. Our dentists have successfully handled numerous different and unique cases and have gotten exceptional results for our patients.
Our dentists also know how to achieve the results that patients desire with the fewest trays possible, which can make the treatment much faster and more affordable.
By having your teeth aligned by an Invisalign Platinum Provider, you'll have peace of mind throughout the entire treatment process. You can trust that our dentists have already helped hundreds of patients achieve their smile-straightening goals, and they look forward to helping you too!
Schedule an Appointment
Wondering how Invisalign treatment can help you achieve that beautiful smile of your dreams? Contact us today to schedule a consultation!
* Any surgical or invasive procedure carries risks. Before proceeding, you should seek a second opinion from an appropriately qualified health practitioner.