Tooth Extractions at Dandenong Dental Care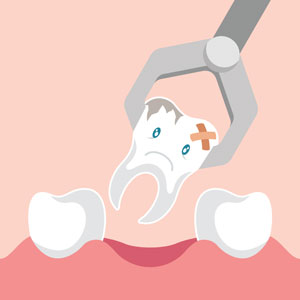 The team at Dandenong Dental Care is here to improve your oral health and overall wellbeing. We believe in saving your natural teeth whenever possible with treatments such as root canal therapy. In certain cases, it may be necessary to extract a tooth.
A Pain-Free Procedure
We believe that your comfort should be prioritised during any procedure. Extractions are no exception, and we'll make sure that you feel relaxed and don't experience discomfort. We like to treat our patients like our family members and will strive to make sure that each visit you have with us is pleasant and positive.
Our dentists are experienced in providing quick extractions and will give you all the necessary aftercare instructions so that you can recover easily.
Why Tooth Extractions May Be Necessary
We'll make every effort to save your tooth from being extracted. There are risk factors, however, that may necessitate an extraction such as infection, trauma or extensive decay. If you have had a root canal therapy but the infection has recurred or spread, the tooth may need extraction. Furthermore, wisdom teeth can need to be extracted if they don't erupt properly or cause other oral health concerns.
Wisdom Teeth Extraction
Wisdom teeth usually grow in during the late teenage years or early twenties. The removal of wisdom teeth is performed due to:
Teeth erupting improperly
Severe discomfort
Inflamed, infected gums
Bite abnormalities
There is a chance your wisdom teeth can grow in free from problems. If not, however, we can perform a comfortable extraction.
Are You in Pain?
If you've had an ache or pain in your tooth, don't put off your dental appointment. Contact the friendly team at Dandenong Dental Care straightaway. We'll get you booked in as quickly as possible to determine if you need an extraction Dandenong. Contact our team today! Same-day visits are available.
Any surgical or invasive procedure carries risks. Before proceeding, you should seek a second opinion from an appropriately qualified health practitioner.
---
Tooth Extractions Dandenong, Keysborough, Noble Park, VIC | (03) 8578 6000