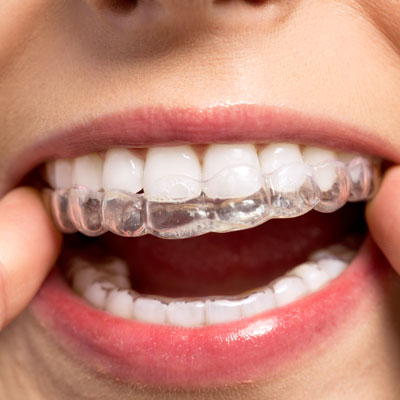 Maybe you wished you had gotten braces as a teen, or perhaps you thought of doing so as an adult, but put it off. Perhaps you were concerned about the length of treatment time or how much it would cost. The good news is it's not too late to get that straighter, confidence-boosting smile you've always wanted with Invisalign treatment. When you feel confident, you'll be eager to smile in social situations, for selfies and all those Zoom calls!
As a modern approach to straightening teeth, Invisalign treatment uses a series of custom-made aligners designed to meet your smile needs. Invisalign treatment can address the following orthodontic issues:
Misaligned teeth
Crooked and crowded teeth
Overbite and underbite
Crossbite and open bite
A Comfortable & Discreet Alternative to Metal Braces
While effective, metal "train track" braces are conspicuous—not a good look! Invisalign aligners are virtually invisible, as well as smooth and comfortable. With traditional braces, you have to avoid crunchy and hard foods but with Invisalign removable aligners, you can enjoy all your favourite foods.
Picture Yourself With a Beautifully Aligned Smile
Do you wish you could visualise how your teeth would look after receiving Invisalign treatment? You can thanks to the SmileView™ simulator! All you need to do is visit Invisalign.com on your mobile phone to try the simulator. Then take a smiling selfie, and the outcome of your transformation will be simulated before your eyes. By seeing how you'll appear with a straight smile, you'll know that Invisalign treatment is the right choice for you.
An Invisalign Platinum Provider
As our dental practice is an Invisalign Platinum Provider, our dentists have a thorough understanding of the world-class aligner system and can use the smallest number of trays possible to make the treatment quicker and more affordable. Dandenong Dental Care offers convenient payment plans to make your care accessible.
When you feel great about how you look you'll want to smile more! Contact our Dandenong practice today to schedule a consultation!
CONTACT US
* Any surgical or invasive procedure carries risks. Before proceeding, you should seek a second opinion from an appropriately qualified health practitioner.