Dental Veneers at Dandenong Dental Care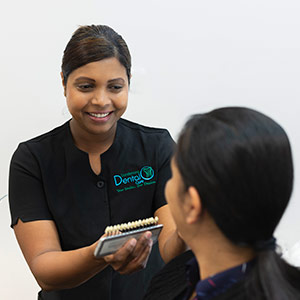 Cosmetic dental solutions are increasingly popular all over the world, with people wanting to make a dazzling first impression by showing off a gorgeous smile. Dental veneers, available at Dandenong Dental Care, are a highly effective way to improve the appearance of your teeth.
Our team provides veneers in three formats: porcelain, ceramic and E-max. E-max veneers, which are crafted at a local laboratory, don't require the etching of your existing teeth to be affixed in a stable manner. That means less damage to your existing teeth while still being extremely durable. All three options will allow you to transform the way your smile looks.
What Is a Veneer?
If you have ever seen a celebrity smile, their teeth are perfectly aligned and of a uniform size, shape and colour. Likely, they've had veneers. These thin shells are placed onto the surface of a natural tooth, colour-matched and custom-created for a seamless look and fit. They're bonded permanently so that you can go about your daily activities with comfort and ease.
Why Choose Veneers?
There are many options available that can enhance your smile and the function of your teeth. Veneers are chosen by patients who would like to address concerns such as
Discoloured teeth
Chipped teeth
Crooked teeth
Gapped teeth
Misshapen teeth
They're often used as a part of a full mouth rehabilitation, which gives a completely made over look to your smile. When our patients get their veneers Dandenong, they're thrilled with the results. By using trusted materials and techniques, you can expect your veneers to last for 15 years or more. You should continue brushing, flossing and having regular dental checkups to make sure that they stay in great shape.
Get Started Today!
If you have looked in the mirror and wished that you could alter the way your teeth look, we're here to assist you. Contact our team today by phone or email to learn more about our many options! We have Saturday appointments and are open late for your convenience.
CONTACT US
* Any surgical or invasive procedure carries risks. Before proceeding, you should seek a second opinion from an appropriately qualified health practitioner.
---
Dental Veneers Dandenong, Keysborough, Noble Park, VIC | (03) 8578 6000